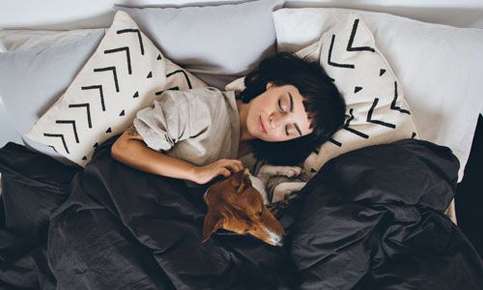 Can I Catch an Illness from My Pet?
Rabies isn't the only disease transmitted from animals to humans. In fact, you and your pet may share more diseases than you may realize. Fortunately, it's easy to avoid these diseases or conditions by taking a few precautions.
Ringworm
Ringworm isn't actually caused by worms but gets its name from the raised, red, circular skin rash it causes. If your pet has the fungal infection, you can catch it by petting your furry friend or even sharing a bed with your dog or cat. Ringworm symptoms in pets include hair loss in a circular pattern, scabs or crusts on the skin, dandruff, broken hairs or brittle nails.
Both you and your pet will benefit from anti-fungal medication. Vacuuming or sweeping your floors and furniture regularly and wash bedding, towels, and other items used by your pet can help you avoid ringworm infections.
Campylobacteriosis
Campylobacteriosis, a bacterial infection that tends to primarily affect animals younger than six months, can also be transmitted to people. Kittens, puppies and other young animals shed the bacteria in their feces. If you or a family member forget to wash your hands after handling feces, you may be at risk of developing campylobacteriosis.
Symptoms of the infection in both pets and people include diarrhea, lethargy, abdominal cramps, and fever. Campylobacteriosis typically causes only mild symptoms in humans and doesn't usually require treatment. Young children, senior citizens, or people with compromised immune systems may experience more severe symptoms. Antibiotics and oral fluids may be prescribed if your pet develops the infection.
Roundworm
Roundworms look like pieces of spaghetti and can grow up to 12" long. They live in the intestinal tracts of animals and people and can be transmitted to people through contact with feces. Symptoms in pets include vomiting, diarrhea, constipation, cough, and bloody stools. If you take a close look at your pet's feces, you may see a few of the wriggling worms. People with roundworm infections may also experience bloody stools in addition to abdominal pain. If the worms eventually travel to the lungs, coughing and shortness of breath can occur.
Anti-parasitic medications will kill the worms in both people and pets, although surgery may be needed to eliminate intestinal blockages. You can reduce your risk of a roundworm infection by washing your hands thoroughly after picking up your dog's feces or scooping the litter box. It's also important to tell your children to avoid playing in areas where dogs defecate, as roundworm eggs can survive in the soil for up to two years.
Lyme Disease and Poison Ivy, Oak, or Sumac
Have you ever developed a rash that looked like poison oak or ivy even though you hadn't recently spent any time working in your yard or walking through the woods? Your pet may have been the reason that you developed the rash. Although dogs and cats don't usually develop poison ivy, oak, or sumac due to the thickness of their coats, they can carry oils from the plants on their hair. When you pet your furry friend, the oils transfer to your skin and cause that unmistakable itchy rash.
If you suspect that your pet has spent some time around the poisonous plants, a bath will remove the oils. Be sure to use gloves when you bathe your pet and immediately wash the towels you used to dry your cat or dog.
It's also possible to catch Lyme disease even though you haven't spent any time around woods or meadows. The deer ticks that carry the disease can transfer from your pet's body to yours after a romp in the woods. If a tick bites you, you may become infected with the disease. Lyme disease symptoms in pets and people include pain and stiffness in muscle and joints, fever, and lethargy. Although a bull's eye rash may be an indication that you have the disease, the rash may not always occur or might not be noticeable.
Antibiotic treatment is the recommended Lyme disease treatment for both you and your pet. You can reduce your risk of contracting the disease from your pet by carefully examining him or her for ticks after outdoor trips and offering flea and tick preventives on a regular basis.
Are you worried that your pet may have developed an illness or infection that could be passed to you? Treating your pet can help you avoid illness. Call us today to schedule your furry friend's appointment.
Sources:
PetMD: Bacterial Infection in Dogs
https://www.petmd.com/dog/conditions/digestive/c_multi_campylobacteriosis
Prevention: 11 Diseases You Can Get from Your Pet, 5/30/13
https://www.prevention.com/health/healthy-living/11-diseases-you-can-get-from-your-pet
Centers for Disease Control and Prevention: Zoonotic Diseases
https://www.cdc.gov/onehealth/basics/zoonotic-diseases.html
NewsMax: 5 Illnesses You Can Give to Your Pet, 7/17/15
https://www.newsmax.com/health/headline/pets-humans-illnesses-reverse/2015/06/17/id/651044/
PLOS/ONE: Seasonality in Human Zoonotic Enteric Diseases: A Systematic Review, 4/2/12
http://journals.plos.org/plosone/article?id=10.1371/journal.pone.0031883