Pet Health Knows No Age
Believing you can wait until your pet reaches the senior years to start managing his or her health is a foolhardy notion. In turn, decreasing their health care as they age is a sure way to diminish quality of life. Like humans, managed health care is necessary for dogs or cats of any age. The only difference is we, as owners, must take charge of it on their behalf.
Puppies and Kittens
For the first year of your pet's life, he or she will be considered a puppy or kitten. Like newborn babies and their scheduled visits to a pediatrician, a young pet should visit a veterinarian several times within their first year. The initial visit usually takes place within six to eight weeks of their birth. During these scheduled visits, you can expect a comprehensive exam, core vaccinations, and advice on everything from diet to obedience training.
Senior Pets
After their first year and until they reach the age of seven, your pet is officially an adult. We look at those years as some of the best for both you and your pet. With yearly checkups, booster shots, and veterinary dentistry to manage, we consider this period a time of maintenance.
After the age of seven, many breeds will be considered seniors. You may begin to notice some slowing down or even changes in their abilities. This shouldn't be a time of melancholy, but rather one of diligence. By increasing their scheduled checkups to twice per year, you along with the veterinarian can successfully manage their health and ensure their long-term vitality.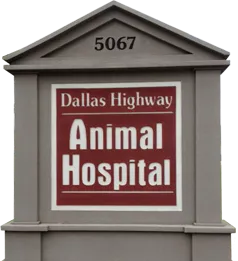 Pet Nutrition
We've all heard the saying—"You are what you eat." The same holds true for our pets. At Dallas Highway Animal Hospital, we take great pride in advising our clients and working with their pets in the areas of nutrition and exercise. For more information and tips on your pet's nutrition, click here.